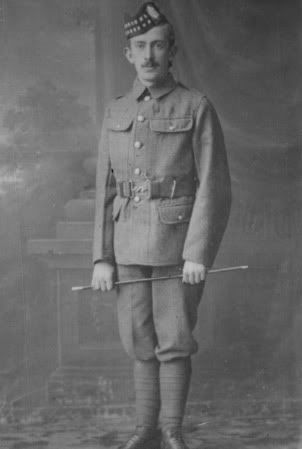 Donald Matheson Fraser was born in 1891 in South Gairloch in Wester Ross, a son for Duncan Fraser (a gamekeeper) and Mary Matheson. By 1914, Mary is no longer alive. Donald is a student at the Heriot School in Edinburgh. On 9 December of that year, he joins the Royal Scots and is sent to the Western Front. With the exception of a gunshot wound, sustained in 1916, and a few episodes of illness, Donald comes through the campaign unscathed. But on 26 September 1917, he is reported missing, which is quickly changed to killed in action.
His father has by then moved to Invershin, a small village in Sutherland near Lairg, and receives the news of the death of his son. Donald's personal effects are sent to Duncan, which includes religious books, a wallet, a photo, letters and a bible.
Donald is remembered on the Tyne Cot memorial in Flanders, but his exact last resting place is unknown. He is also commemorated on the memorial at Timsgarry in Uig, Lewis.
Image copyright
Uig Historical Society
Private DONALD MATHESON FRASER
Son of Duncan Fraser, of Achnairn, Lairg, Sutherlandshire, and of the late Mary Matheson Fraser.
Service unit: 2nd Royal Scots
Service number: 18744
Date of death: 26 September 1917 at the age of 25
Killed in action in France
Memorial: Tyne Cot Memorial, panel 11 to 14 and 162
Local memorial: Uig, Timsgarry