Able Seaman DONALD MURDO MACIVER
Domhnull Angie Iain Choinnich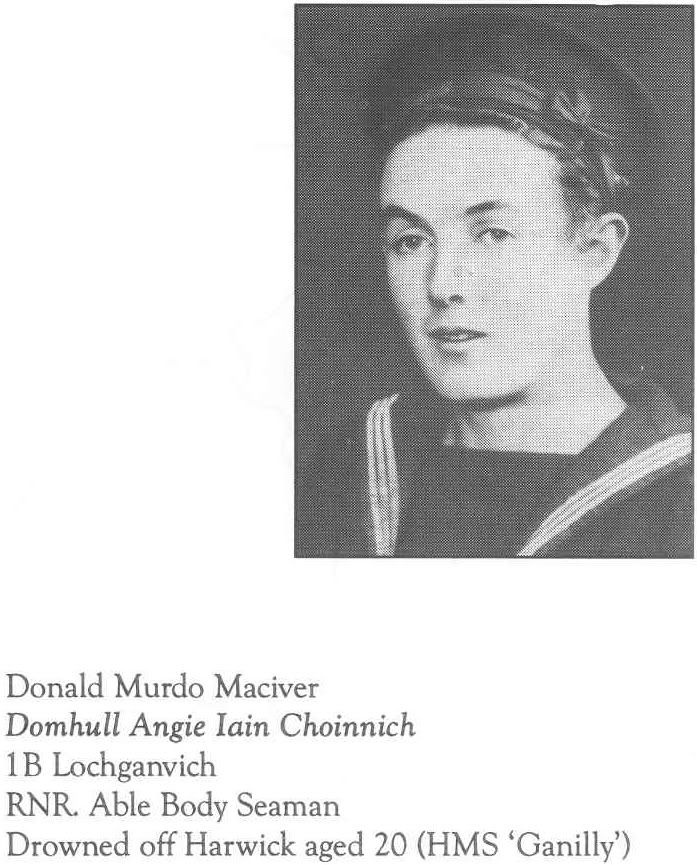 Last address in Lewis: Lochganvich
Son of Angus Lewis MacIver and Marion MacIver, of Stornoway, Isle of Lewis.
Service: Royal Naval Reserve
Service number: LT/JX400546
Date of death: 5 July 1944 at the age of 20
Lost off Harwich when HMT Ganilly was sunk by U-390
Memorial: Lowestoft Naval, panel 14, column 2
Mentioned on family gravestone in Crossbost Cemetery, Lewis
Local memorial: North Lochs, Crossbost
Alison MacRae from Canada had the following question on the World War II Tribute for Lewis:
On doing research on the family's homestead in Lochganvich I was very surprised to see this of my relation Donald Murdo Maciver. Was trying to find out more, it said drowned of Harwich, but he was on a Normandy convoy. Looked up the Lowestoft Naval Panel and found his name listed. Are they are any relations still up in the Isle of Lewis. My grandfather was Donald (Daniel) Maciver married to Ann Macintosh, my mother's name was Rachell. Mum married a Samuel Rennie in Glasgow and then we moved to Canada.