Armistice Day, and the 90th anniversary of the end of hostilities in the First World War. The war to end all wars, what a fallacy that turned out to be. Watched the ceremony in Whitehall this morning, when the three remaining surviving veterans of the Great War laid their wreaths at the Cenotaph. The eldest, Henry Allingham, aged 112, laid the wreath with his own hands. Very moving.
My thoughts today are with all who fell in that conflict. And with those who tragically drowned outside Stornoway Harbour on 1 January 1919, on their way home. Their transport, a troopship called the Iolaire [Eagle], ran aground on a reef and sank after an hour and a half. 75 survived, but 205 went to the bottom with her. They had survived up to 4 years of war - only to drown within sight of their home town. Inquiries in 1919 and 1972 did not properly account for the events of that dreadful night.
The village of Shawbost, 18 miles from Stornoway, buried 9 of its sons a few days later. North Tolsta, 13 miles north of the town, had lost the largest number of their young men. Of those drowned, 64 were never found. The remaining 140 were found scattered on the shores around Stornoway; one turned up in Loch Grimshader 5 months later.
I'll close this post with a tribute to one of the victims:
Leading Deckhand John MacAskill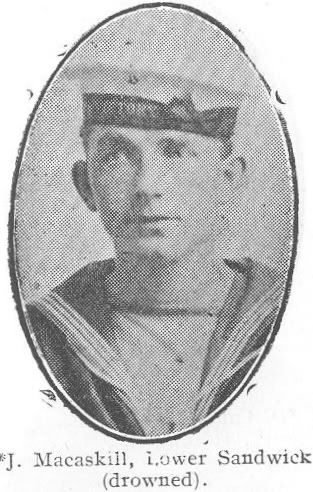 Last address in Lewis: 12 Lower Sandwick
Son of Kenneth and Mary MacAskill, was married
Service: Royal Naval Reserve, HMT Thomas Booth
Service number: 9635/DA
Date of death: 1 January 1919 at the age of 24
John drowned, and lies buried at Sandwick